A general explosion of joy.
The most important popular festival, it mixes emotions, creativity,
plasticity, colors, sounds and many costumes.
Rio offers a great thematic festival.
People dance with joy and freedom as the contagious carioca spirit

affects all that come from different places to visit Rio de Janeiro at
carnival time. So, put on a smile, move your feet, loosen up your arms,
turn on that twinkle in your eyes and get into it.
World's most exciting event.
The very best sample of Brazilian melting pot culture. The moment comes when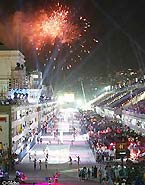 all participants are the protagonists of their own play, costume, plot, and
samba. This is carnival year after year.
CARNIVAL CALENDAR
UP TO 2010
2005
FEBRUARY 06
2006
FEBRUARY 26
2007
FEBRUARY 18
2008
FEBRUARY 03
2009
FEBRUARY 22
2010
FEBRUARY 14